Village Neighborhood Association July Meeting in Village Park!
Please join us for a special meeting celebrating our newly renovated Village Park! Bring the kids!
Thursday, July 21, 2016
7:30pm – 9:00pm
VILLAGE PARK
384-388 First Street
Presentation and park walk-through with designer David Seiter
Community Updates
Refreshments
For over seven years the VNA and Village community have worked toward transforming the long-closed, abandoned and neglected pocket park into a reinvented open space that is unlike any Jersey City has ever seen. In the Fall of 2009, a competitive and exciting pro-bono design competition was conducted via a Request for Proposal and called for feedback and suggestions from Village residents.
At the October 2009 VNA meeting, over 60 attendees viewed four amazing visions for Village Park and overwhelmingly selected Future Green Studio for an imaginative modern design that uses recycled and sustainable materials; provides playful passive sections for children; features restive, meditative elements like a central lawn, walking paths; and pays respect and homage to the neighborhood's Italian-American heritage.
We are excited to have David Seiter, design director and founding principal of Future Green Studio, back to the park to walk us through his design, creative process, and share insights (and challenges!) of working on this unique project with the City of Jersey City.
ABOUT THE DESIGNER: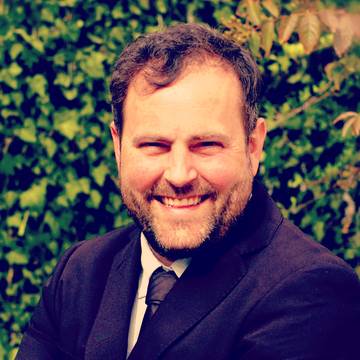 David Seiter is design director and founding principal of Future Green Studio where he oversees a staff of twenty-five creative, hardworking and talented individuals. A long-time Brooklyn resident and urban explorer, David enjoys investigating the complex ecology of our cities in order to reveal the nuances of the urban landscape in subtle, poetic ways. With keen attention to sustainability, David is continually exploring how to integrate landscape into the built environment in innovative and environmentally responsible ways.
David's portfolio encompasses award-winning private and public-use projects – with recent high-profile commissions from institutions such as Metropolitan Museum of Art and Brooklyn Children's Museum, urban park and streetscape projects such as Journal Square Park in Jersey City, NJ and the Half Street Streetscape in Washington DC, and luxury roof gardens for celebrity clients. His work has been featured in numerous publications including Landscape Architecture Magazine, Architectural Digest, Dwell, The New York Times, The Robb Report, The Wall Street Journal, Urban Omnibus and The Architect's Newspaper.
David is author of the book SUP: Weeds in NYC – a book about the overlooked ecological value of weeds in the urban landscape. Additionally he founded the website spontaneousurbanplants.org which won a 2015 National Honor Award in Research from the American Society of Landscape Architects. David has lectured widely about emergent trends in landscape architecture, and has previously taught at the graduate program for Sustainable Planning & Development at Pratt Institute.
David holds a Master in Landscape Architecture and Regional Planning from the University of Pennsylvania and a BA in Art History from Vassar College. David is an independently licensed landscape architect in New Jersey, Maryland and Virginia. He lives in South Slope, Brooklyn with his filmmaker wife and two children.