JCVillage | All About The Trash Mob
3413
page-template-default,page,page-id-3413,page-child,parent-pageid-2806,do-etfw,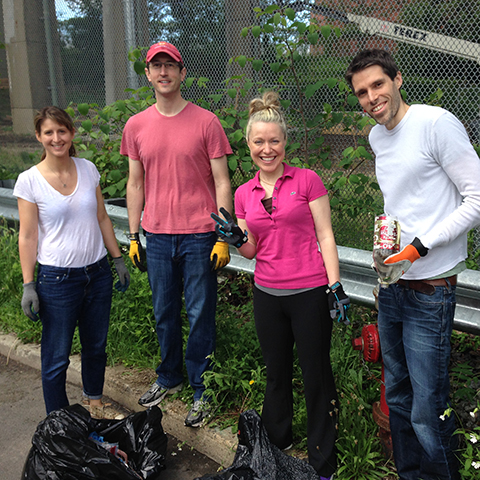 The Trash Mob is a Village Neighborhood Association born initiative designed to eliminate litter through community engagement.
Think of it as the "gamification of garbage". It's a neighborhood beautification initiative with rewards that can not only be seen in the form of cleaner sidewalks and streets, but also redeemed at local businesses if you are one of our lucky winners!
Remember, you only have to sweep the garbage (if there is any) in front of your home into a small pile. From there, a quick e-mail sends the Trash Mob into action. Our "Hit Squad" picks up the pile (we call it a "hit"), and you're automatically entered into our monthly drawing. (See details below).
Our inaugural Trash Mob on Saturday, May 24th was an amazing success as 51 "hits" were recorded (Check out our map of hits). The participation wildly exceeded our expectations, as real trouble spots like the Brunswick Street mural and the embankment around the bend at First and Merseles Streets were tackled by enthusiastic Village residents. Incredible!
Through the amazing support of our local business community, the participants' hard work was rewarded at our June 12th VNA meeting, where Jessica Mullins, Jeff Budney and Kathleen Ilch all won gift certificates kindly donated by Pig & Pepper, Union Republic and the Light Horse Tavern.
It's that easy – Sweep. E-mail. Win!
And the news is spreading outside of the Village borders as other community-minded Jersey City businesses are contacting us to support our Trash Mob initiative. So, it's with great pleasure that we welcome Hound About Town and Hazel Baby to our growing list of supporting businesses!
Click HERE to view never before seen security camera footage of the mob!
---
What is "The Trash Mob"?
On specified Saturday mornings from 9:30 am – 10:30 am, you'll only need to complete these two simple steps to be eligible to win:
Step 1. Sweep the litter on your sidewalk and curb into a neat pile.
Step 2. E-mail your location to trashmob@jcvillage.org and we'll pick it up.
THAT'S IT!
By participating, your email address will be entered to win a prize from select local businesses such as Pig & Pepper, Union Republic, Hound About Town, Hazel Baby, Kasa Buddha, and Light Horse Tavern
---
The Unofficial (and Non-Binding) "MOB RULES"!
Rule #1: Rain or shine…Mobs never rest.
Rule #2: You must live within the Village neighborhood boundaries.
Rule #3:  Your sidewalk/curb is clean? Well, that's the point, right? E-mail us at trashmob@jcvillage.org and you'll be entered to win just for checking in.
Rule #4: Do you love winning? Sweep your neighbor's space, and email us their address, too, along with yours, and you'll double your odds! Sweep another neighbor's space and triple your odds! Sweep the whole Village and you're guaranteed to win!
Rule #5:  Did you e-mail us after 10:30? Well, thank you for cleaning our neighborhood, but we need to have at least one strict rule.
Rule #6: Drawings will be held at the next Village Neighborhood Association meeting. You do not need to be present to win, but you would miss out on the free cookies.
---